Vocabulary is an integral part of learning any language. Today we are going to learn some interesting vocabularies, which you may be using without knowing. Yes, these are extremely used K-pop words you should know & use! 
그럼, 시작해 볼까요?
Aegyo means acting cute or behaving or speaking in a cute way to look more attractive. Earlier only K-Pop idols used to use aegyo, but it's a pretty common thing now and you can see Korean people using aegyo in daily life as well. Some examples can also be seen in K-dramas. One of the famous one could be seen in Park Seok-Joon and Kim Ji-won featuring drama Fight for my way, when Choi Ae-ra (Kim Ji-won's character) did the Aegyo. 
Watch here: Choi Ae-ra showing Aegyo!
Example sentences:
BTS Jimin is popular because he is cute –

지민 씨는 애교가 많아서 인기가 많아요.

Nayeon is really cute – 나연은 애교가 많아요.
K-Pop world has to be applauded to have changed the use of this word from negative to positive. Earlier people used to be accused with this word, as it was used if someone unfairly helping someone. But now we ask our friends. "Who is your bias?" 
Example sentences:
My bias is Choi Min-ho from SHINee – 제

최애가 샤이니의 최민호예요.

Who is your bias in BTS? – 방단소녀단에서 최애가 누구예요?
This is just a common loan word, which is used when any band is starting their performances on stage after a gap.
Example sentences:
Fans are still waiting for f(x) comeback – 팬들은 여전히 f(x)의 컴백을 기다리고 있어요.
GOT7 had the most amazing comeback on their own – 갓세븐이 혼자서 가장 멋있는 컴백을 했어요.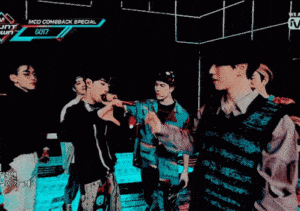 To give you the real meaning of this famous word, 대 has the meaning of the greatest while 상 means prize, hence, both combined means The Grand Prize. 
We are always eager to know if our favorite band has won, right? 
막내 is a famous word in Korea as the country has an adorable way of naming addressing their kids just like in the western world when they say the youngest. It's the same as that. However, in Korea this words goes beyond the household as they have the habit of recognizing 막내 or the youngest in any group like in the office, departments have the youngest member, just like that k-pop groups have 막내 as well.
In a Korean household however, the youngest can be expressed through different adjectives like, 막동이, 귀엽동이, etc, meaning youngest cutie, cutiepie, respectively.
The Americanized version of this word is Makne, however, the correct pronunciation is Mang-nae. 
Usually a 막내 has to do all the miscellaneous work like picking up food, arranging newspapers, etc. But a 막내 is also somebody who is the most loved in the group and the household. Maybe this is why Eric Nam once wished to be the youngest. 
This word became popular because of BTS member Jungkook ( 황금 막내). He is the youngest so 막내 and golden 황금 because he is talented.
Example sentences:
Jungkook is known as the Golden Maknae of BTS – 정국이는 방탄소년단에서 황금 막네로 알려져 있어요.
I am the youngest in my family – 저는 가족에서 막내예요.
This word is also a loan word. It simply means the Leader of the group. The leader of all K-pop groups have to handle everything. They are the spokesperson for all the members and hold a very respectable yet responsible position. 
The pronunciation differs from the actual word leader, it is lea-deo. 
Example sentences:
Do you know a fun fact? Blackpink doesn't have a leader – 재미있는 거 알고 싶나요? 블랙핑크는 리더가 없어요.
Who is your favorite leader in K-pop? – 케이팝에서 가장 좋아하는 리더는 누구인가요?
This word is also a loan word and as the name suggests this is groups of fans supporting, showing their love and dedication towards their favorite groups, artists, etc. A fun-fact – K-pop fandoms are known to be the best yet craziest fandoms in the love. They would go any boundary to support their artists. However, this also sometimes turn into huge fights between these fandoms. 
All of these fandoms are named something. For example, BTS fans are knows as ARMY, and EXO fans Exo-ls.
This word is used to refer to people who are of the same age. Age is a really important factor in Korea. People ask about their born year and hence, this has taken over K-pop as well.
Infact, a lot of K-pop idols also love to hangout with people their age. The most famous friendship in K-pop is Jungkook (BTS); Cha Eun Woo (Astro); Jae Hyun (NCT); Bambam and Yugyeom (GOT7); The8, Mingyu and DK (Seventeen) – all these members are from different groups but are known as 97 liners as they all were born in 1997. 
Example sentence: 
We are the same age so you can drop honorifics –

우리는 동갑이니까 반말해도 돼.
As the name suggests, this is some kind of meet-up. The idols hold fan-meetings wherein the fans and artists both get to meet each other, sign their albums, hi-fie and have a fun time together. 
This is a abbreviation of 많은 관심 부탁드립니다 that means We look forward to a lot of support from you. A lot of idols and even actors are seen using this abbreviated version while promoting their new album, song, drama or movie.
This is also used by people in Korea when they are asking for support or participation from audience for any event.
Written By: Shillpa Ganjendra