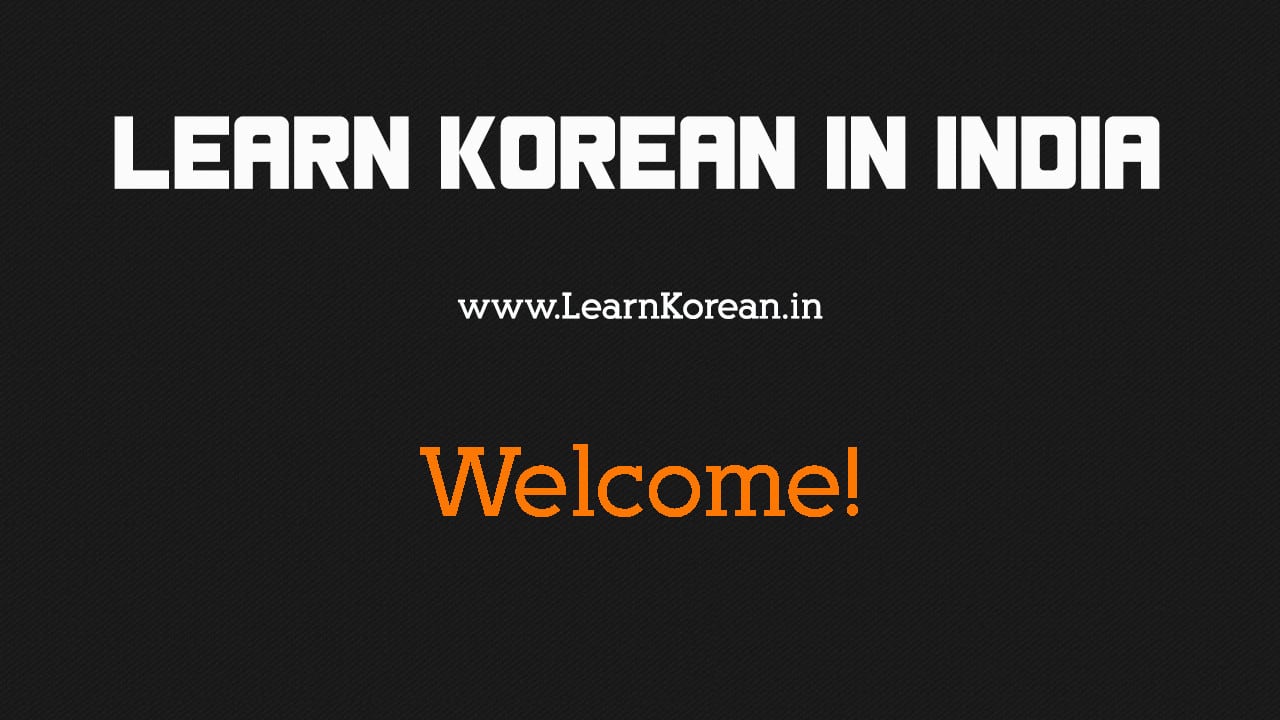 Hello Friends! Welcome to our website – Learn Korean in India.
This is the first post on this website and I am going to take this opportunity to talk about the objectives of this website. But first, let me introduce myself. I am Satish and I am a Korean language learner and educator. I did my Bachelors in Korean Language from Jawaharlal Nehru University, New Delhi and my Masters from Seoul National University, South Korea. Currently I am teaching Korean language at Jawaharlal Nehru University.
As the name suggests, the goal of this website and our YouTube channel is to help Indian learners learning Korean language. As we all know, there are plenty of Korean language lessons already available online. So what was the need to make this new platform? I will explain why I though such a platform was needed.
As a Korean language learner and teacher I have observed that most of the Korean language study material available online are mainly for learners from western countries and they explain Korean pronunciation and grammar through English. All the concepts of Korean language are compared with those of English. Most of Indian learners are comfortable with English. So, the medium of instruction doesn't really matter much. The problem is that Indian learners have a huge disadvantage when they learn Korean through English. As you might be aware Korean has a lot of similarities with Indian languages in terms of grammar.  When learning Korean through English we lose that additional advantage of already knowing a language which is very similar to Korean.
Korean is really easy to learn when you relate the pronunciation of alphabet and also its grammatical concepts to Hindi or any other Indian language. Most of the Indian languages are phonetically very rich and almost all Korean sounds can be produced perfectly by Indian learners but when you learn Korean through English you end up learning the wrong pronunciation. The word order and grammar patterns of Korean are very similar to Indian languages and therefore are very easy to learn for Indian learners.
In the lessons on this website I will use English as the main language of instruction as many Indians are not very comfortable with Hindi, which is my mother tongue. But I will be explaining grammatical concepts of Korean language by comparing them with Hindi. I don't know any other Indian language, so I will use Hindi only but I am sure the same concepts exist, more or less, in other Indian languages as well. So you can find the equivalent concept in your own mother tongue and use it. I will also be using Indian contexts in the dialogues and conversations used in the lessons so that Indian learners are able to relate to them easily.
I will be starting with the beginner level lessons but later I also plan to create content for Intermediate and advanced level learners on topics like Korean society, culture and literature.
So, let's start our journey to learning the beautiful language, that is, Korean. Make sure that you subscribe to both our website and the youtube channel so that you get all the new lessons in your inbox. You can like our Facebook Page to keep yourself updated. If you have any suggestions or questions, let me know in the comments. Thank you and see you in the next lesson.
Subscribe to get new lessons via email
Subscribe to LKI on YouTube
Like KLI on Facebook
Follow LKI on Twitter